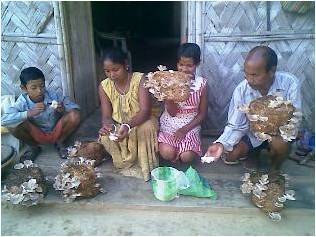 Mushroom cultivation is a viable source of income for farmers and un-employed youth. This was stated by Director Agriculture Kashmir Mushtaq Peerzada while inspecting District Mushroom Training Centre at Lalmandi here today.
He impressed upon the farmers to take up Mushroom scheme as self employment venture as agriculture department is making all its efforts to help the farmers in improving their economic status besides their income by providing requisite technologies and material inputs for diversifying agriculture activities.
The Director said that Mushroom Development has been given priority under Centrally Sponsored Schemes especially under Rashtriya Kissan Vikas Yojana (RKVY). He stressed farmers to come forward and avail benefits under various schemes for cultivation of Mushrooms. It was also given out that during 2009 to 2013, 400 mushroom units were established in Kashmir Division for which Rs. 30 lakh incentive was provided to the beneficiaries while Mushroom Demonstration cum training centre is providing trainings to farmers and unemployed youth in every District and Department is providing technical guidance and free spawn to Mushroom unit holders.
See on www.kashmirtimes.com